2015.09.26
现场报道:枫翎个展《度》,一场度人度己的理解
Feng Ling's Solo Exhibition "Scanner" kicked off at 16:00 pm on Sep 26th, 2015.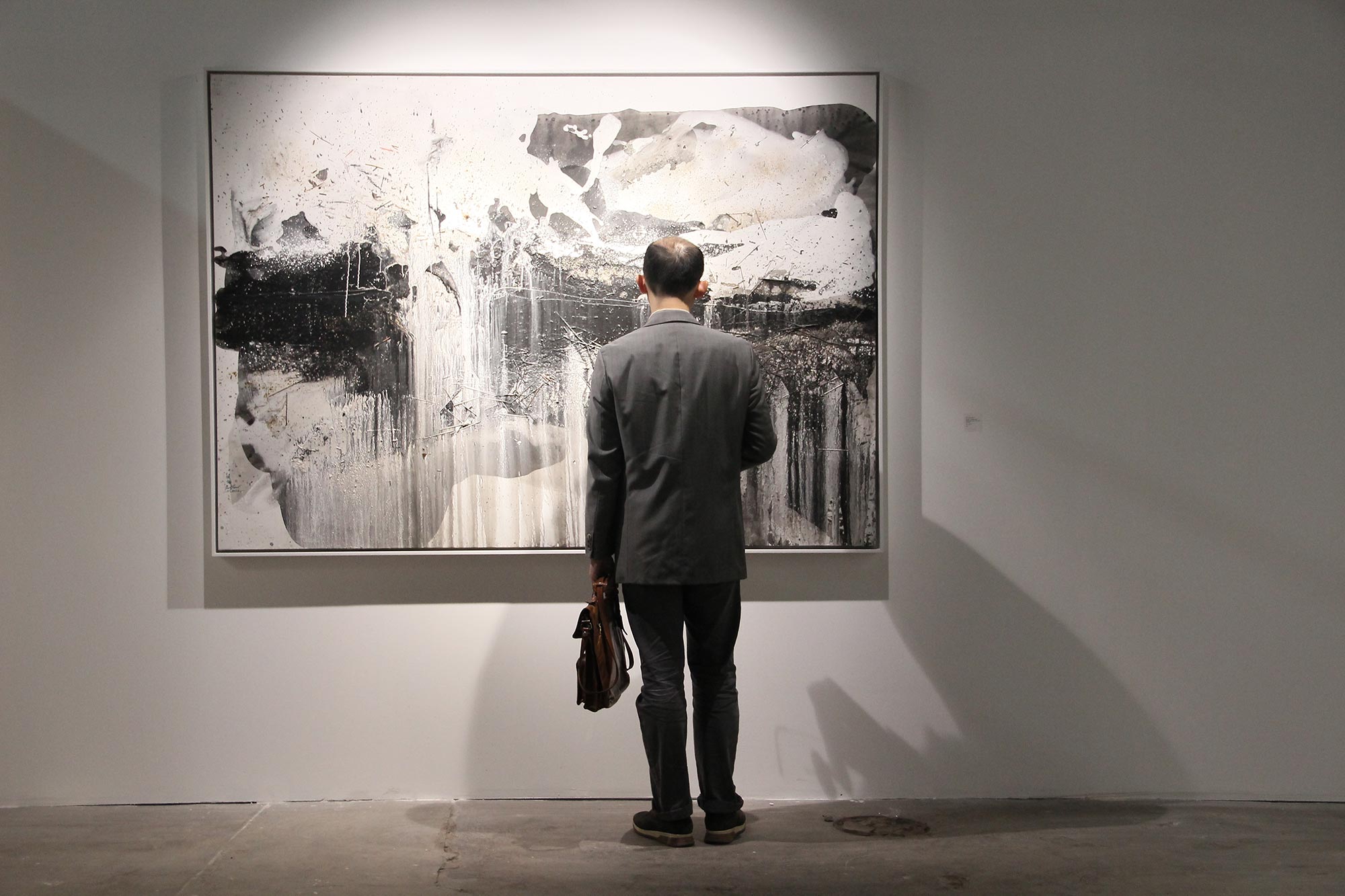 2015年9月26日,在3画廊枫翎个展《度》于下午16:00隆重拉开帷幕。
继2014年第二届中国-意大利当代艺术双年展枫翎那件震撼全场的行为装置作品"Si- 未来的礼物"之后,此次枫翎个展《度》为我们呈现的更多是艺术家的实验新作。在这一批作品里,艺术家将日常禅修所得的香灰作为基本元素,融入水墨、箭、蕾丝等创作作品。
箭与蕾丝、香灰与水墨,这是两组相悖并行的语言。箭指向力量,蕾丝指向温柔,香灰指向宗教,水墨指向艺术,迸发与束缚、一步到位的终极追求和永不满足的激情探索,它们的相遇和相撞构成枫翎作品语言的无限张力。语言的诉说者,也是其中的被囚禁者。
在枫翎看来,"艺术是对人性的一种终极关怀和修复"。她研究禅宗,并且把禅修中的香灰融入材料的探索和试验,变修行为艺术,变艺术为修行,修行与艺术共同构成艺术家抚慰生命的药丸。枫翎的作品是沉思的,自我灵修的,如"我思故我在"、"无常"、"度"……然而她的作品却又是美好的、诗性的和迷人的,如较量后的顺服、彻悟后的平静!这在"zen"系列作品中得到展现,这些作品显示出清澈而安宁的力量。
枫翎这一阶段的实验和深刻参悟在作品"108度"中得到极致的体现。108是一个神秘的数字,代表"极高"、"吉祥"、"驱除人生一切烦恼"等等……在枫翎的"108度"中,是经过她反复实验而得到的,作品中是108根香燃烧殆尽的痕迹,这里面包含对过程与时间、存在与生命的切实体会,就如每一个不同的个体在生命长河里的经历和付出,乃至最终结束,每个个体的宿命一样,痕迹却不尽相同,人生的意义全在于过程与存在的体验。资深评论家柴中建先生评论说:"108度观念的出现,就把"香"这一材料激活了,香不在作为画面的一种材料,而是关联了一个很大隐喻的空间的叙事,作品就从一般绘画性(画面效果营造)的技术环节,深入到观念的意义表达。这意味着枫翎创作的又一次进步!"
整个展览不仅是艺术家作品的简单陈列,而是其艺术与生命苦苦求索过程的完美再现。正如策展人在布展时别具匠心的空间安排一样,回形空间布置与曲折的创作暗和,门厅"+"的启示与"108度"的灵性呼应。枫翎个展《度》是一场度人度己的理解。
Following Feng Ling's amazing behavioral-installation "Si- the future gift" in 2014 of the second China-Italy Biennale, this time her exhibition "Scanner" presents us her works of mixed media on canvas. In this group of works, she uses a large number of ready-mades from her daily meditation like ash, ink, arrow, lace and other basic elements, implanting into the works.
Arrow and lace, ash and ink, are two pairs of contrary and parallel language. Arrow points to strength while lace points to gentleness; ash points to religion, while ink points to art, bursting out and binding up together. The encounter and impact that the all-in-one-step ultimate pursuit and insatiably exploration of passion have made constituted the unlimited tension of Feng Ling's work language. Language teller is who has been confined. In Feng Ling's opinion, art is a kind of ultimate concern and repair of human nature. She studies Zen Buddhism, and integrates ash left from her meditation into the exploration and test of materials, transferring practice into art and transferring art into the practice, which made the practice and art into comforting pills of life. Feng Ling's works are meditative and spiritual by themselves, such as "scanner", "fleetness", " I think, therefore I am" etc…… Meanwhile her works are also wonderful, poetic and fascinating, which is like being obedient after contesting, and being calm after a deep understanding! This has been presented in the series of Zen, which releases a power of peace and limpidity.
Feng Ling's experiments and deep understanding at this phrase have been embodied through the work 108 degrees. 108 is a mystical number, standing for ultimacy, auspice and "getting rid of all the troubles of life" etc…… Feng Ling's 108 degrees, which was obtained after repeatedly experiments, constitutes of marks that burn out from 108 incense sticks. This includes a vivid experience of process, time, existence and life, which is like the experiences and dedications of every individual in the history of life, and till the eventual end. Everyone's fate is same, but their imprints are different. The meaning of human life lies in the process and experience of existence.
The senior critic Mr. Chai Zhongjian commented: "the appearance of 108 degrees has activated the material of 'incense'; the incense is therefore no longer used as a material of screen, but associates with a great number of metaphorical narratives of the space, turning the paintings from the generality of technical aspects (artistic effects), into the meaning of the conceptual expression, which means another progress of Feng Ling's creation of works!"
The whole exhibition is not only a simple display of the artist's works, but also a perfect reproduction of her exploration struggling with the process of seeking art and life. As the good space that the curator of the exhibit originally arranged, the reversing space layout and the tortuous creation of works combined together, as well as the spiritual echo between enlightenment of foyer "+" and "108 degree". Feng Ling's solo exhibition "Scanner" is already an understanding of liberating people and ourselves.